From the Greek National Tourism Organisation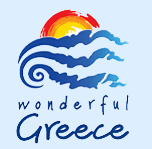 Time in Greece
Greek local time is GMT +2 hours
Electric Current
The standard in Greece is 230V AC (50Hz). Appliances from North America require a transformer and British ones an adapter.
Opening Hours Shops
Shops are open Monday through Friday from 09.00 till 14.30 and on Tuesday, Thursday and Friday also from 17.30 through 20.30. On Saturday shops open from 09.00 till 15.00, while they are closed on Sunday. Supermarkets and kiosks may stay open till 22.00.
More specifically, in the centre of large urban areas as well as in tourist areas, tourist shops and kiosks are open from early in the morning till late at night, seven days a week.
Greek Currency - The Euro
Greece once had its own currency, the Drachma. On 1 January 2001 this was replaced by the Euro, which is now in use in many European countries (some exceptions are Great Britain, Sweden, Switzerland and the most recent member countries of EU).
When visiting Greece it is a good idea to collect change for larger notes, before travelling to small villages or going to buy low cost items, but especially in smaller out-of-the-way places. Otherwise, you may face quite a wait while the shopkeeper you are paying tries to find someone who can make change.