The Peloponnese in Greece ...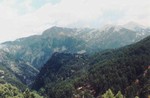 The Peloponnese is a large peninsula in southern Greece, forming the part of the country south of the Gulf of Corinth.
The peninsula has a mountainous interior and deeply indented coasts, with Mount Taygetus its highest point. It possesses four south-pointing peninsulas, Messenia, the Mani Peninsula, Cape Malea (also known as Epidaurus Limera), and the Argolid in the far northeast of the Peloponnese.
The Peloponnese possesses many important archaeological sites dating from the Bronze Age through to the Middle Ages. Its modern name derives from ancient Greek mythology , specifically the legend of the hero Pelops who was said to have conquered the entire region.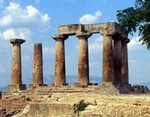 Two groups of islands lie off the Peloponnesan coast: the Argo-Saronic Islands to the east, and the Ionian Islands to the west. The island of Kythira, off the Epidaurus Limera peninsula to the south of the Peloponnese, is considered to be part of the Ionian Islands.
The characteristic of the Peloponnese is multiformity and you will find stone villages perched on rocks or in woods with planes, chestnuts and conifers as in Arcadia, cosmopolitan resorts in Argolida, Corinth, Achaea, immense beaches in Ilia, towers in Mani, fertile plains in Argolida, Messinia and Ilia.
Peloponnese is one of the most historical areas in Greece and has a lot to offer to its visitors!