Welcome to the Island of Naxos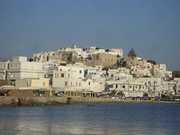 Naxos is a popular tourist destination, with several easily accessible ruins. It has a number of beautiful beaches, such as those at Agia Anna, Agios Prokopios, Alikos, Kastraki, Mikri Vigla, Plaka, and Agios Georgios, most of them near Hora.
Naxos is the most fertile island of the Cyclades. It has a good supply of water in a region where water is usually inadequate. Mount Zas (999 metres) is the highest peak in the Cyclades, and tends to trap the clouds, permitting greater rainfall. This has made agriculture an important economic sector with various vegetable and fruit crops as well as cattle breeding, making Naxos one of the most self sufficient islands in the Cyclades. Naxos is also known within Greece for its potatoes.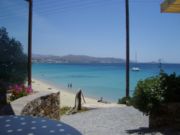 The island is comprised of the two municipalities of Naxos and Drymalia. The largest town and capital of the island is Hora, sometimes called Naxos City, with 6,533 inhabitants (2001 census). The main villages are Filoti, Aperathos, Vivlos, Agios Arsenios, Koronos and Glinado.
The most recognizable landmark of Naxos is the Portara, an iconic 6th century BC marble gate on the islet of Palatia in Naxos harbor. It is the only remnant of a temple dedicated to Apollo.

Naxos is well known for its wonderful beaches, some with advantageous winds for prime windsurfing and kitesurfing. Most of the Island's West coast is one long sandy beach with crystal clear azure water, the most popular areas of which are Prokopios, Agia Anna, Plaka and Mikri Vigla.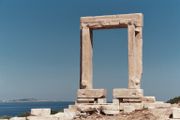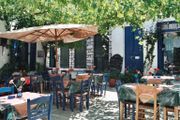 It also has a mountainous interior with a great variety of valleys and villages, easily reachable by a well-maintained road system. Archaeological highlights include the Kouros of Melanes and Apollonas, Dimitra's Temple at Sangri and the Cheimarros Tower.
NAXOS TOWN

Naxos Town (Chora) is the capital and main port of Naxos Island. It is a lively town with 8,000 inhabitants. It has tiny roads, alleys, archways and old houses, in and around the old Venetian Castle. North of the port, a pathway stretches out to the islet of Palatia and the unfinished Temple of Apollo (6th century BC).

Portara, is the huge entrance (6 metres height, 3.5 metres width) to the temple that Naxos tyrant Lygdamis began building on Palatia Islet. Further north of Palatia (in Grotta) are remains from the Mycenaean period.