Welcome to the Island of Mykonos

Despite the fact that Mykonos consists of dry and barren landscapes it's definitely one of the most popular islands in Greece. Mykonos is located to the area of the central Aegean Sea and belongs to the prefecture of Cyclades.
Even though it has the reputation of being the Gay Capital of Greece, Mykonos is an island which has loads to offer to all its visitors. You will find some beautiful sandy beaches and a very lively and sophisticated nightlife. Mykonos has a rich cultural history and is today a very cosmopolitan island with hospitality and charm in abundance. Nearby historical Delos adds to the treasures to be found at Mykonos.
On Mykonos there is something for everyone. The choice is up to you to enjoy the most peaceful relaxation up to the wildest parties. Most locations are easily accessible by public transportation and if you want it's possible to escape to quite a number of family style beaches or those frequented mainly by wind-surfers.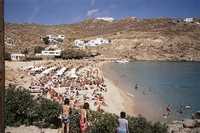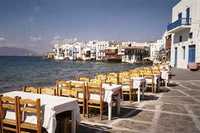 All categories of seaside accommodation, from simple hotels to luxury villas, are available; plus you may enjoy a great variety of water-sports and many beaches bars and restaurants.
MYKONOS (CHORA)

Mykonos town - Chora is defenitely one of the nicest and most charming towns of the Greek islands, with endless small streets, shops, windmills, churches, terraces and whitewashed houses. A place to wonder around for days and every time find something unexpected.

Little Venice is a picturesque neighborhood at the southwest end of the port and owes its name to the fact that many of the island's wealthy early captains built their houses directly on the sea here. It is the town's most idyllic spot, especially in the late afternoon, where one can enjoy a wonderful sunset on one of the stylish bars overlooking the water.
ORNOS BEACH

Ornos Beach is one of the most popular beaches on Mykonos, where you can find a relaxing atmosphere, though sometimes it can be very crowded. The water is shallow along the shore line which makes it ideal for children. Ornos Beach has many cafes, tavernas and restaurants on the beach for easy access.

The entire area is surrounded by hotels, apartments, rooms for rent and villas. There is a range of services available for just about every need you may have. On the beach and within short walking distance you will find mini markets, super market, butcher, pharmacy, bakery and more.
PLATIS YIALOS

Platis Yialos is one of the most popular beaches of Mykonos Greece. It has golden sand and beautiful crystalline turquoise waters; it is a fully organised beach with sun beds and umbrellas rentals, sea sports facilities and many restaurants and taverns.

Platis Yialos is reachable by local bus and taxi-boats leaving regularly from the capital of the island. Various accommodations can be found in the surrounding area.