Welcome to the Island of Samos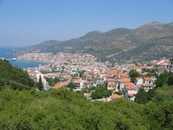 Located only 1200 meters from the Turkish coast, Samos Island in the Aegean Islands group has something to offer to all its visitors. Samos is the most vegetated and fertile island in the Aegean. Samos is quite rich in beaches and offers very diverse, and sometimes rare, flora and fauna.
The tallest mountains of the Aegean are found on Samos. Mt. Kerkes is ideal for mountaineering and therefore only few have the opportunity to enjoy his wild beauty. On the other hand Mt. Ambelos (or Karvounis) can easier be reached and enjoyed by individuals of each age.
Between the mountains one will find valleys and small plains, giving the visitor the impression of absolute harmony and infrequent beauty. This blessed and separate place achieves a unique combination of the colours of the earth and the sky.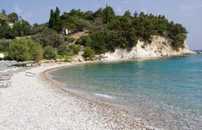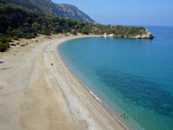 Samos is and island with an interesting and rich history of cultural development. Quite a few famous persons that dealt with art, literature, philosophy and the theories have lived here. The great mathematician and philosopher Pythagoras was born on Samos, whose theories influenced decisive the mathematic world. Another great personality, Aristarchos, was born and raised here. This great astronomer was Euklides student and the first one to declare that the earth is circling the sun whilst turning round its axis.
VATHI - SAMOS TOWN

On the north - east side of the island is situated Vathi, with the seat of the municipality the town of Samos. Built amphitheatrically around a large bay, it is a harmonious fusion of Aegean colours, a neoclassical coastal zone and the gorgeous beaches surrounding it.

Vathi, also known as Samos, is one of the three main ports on the island and is the capital and main town of the island and prefecture of Samos.

Limin Vatheos or Kato Vathi, as the locals call it, is the most lively place on the island, especially during the touristic season. The rich historic past of the island is established by the ruins, the finds and the remnants of its famous sites.